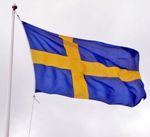 An elderly woman was reported dead in the southern Swedish city of Borås last week, despite the fact that she was still living in a retirement home.
According to a recent report by the Borås Tidning newspaper, the woman's children received mail notifications from local authorities claiming that her home needed to be cleared within a fortnight because she had died.
Family members have said that they were shaken by the situation, despite officials having since admitted that it was a mistake.
The woman's son told reporters from the paper, "This hit us hard. We have been deeply concerned about it. Many thoughts going through our heads, we've been lying awake at night thinking about it. Luckily, my sister takes care of mother's accounts, so the letter went to the billing address. The letter didn't go to mother, which was a real stroke of luck. I don't dare to imagine the consequences had that happened."
He went on to say, "What has happened has happened and you have to hope that procedures will be made that prevent a it from happening again."
Meanwhile, administration manager Lars Nordin responded, "We have to solve this so the woman can feel safe. There has been some mistake when the town reported the personal identity number (personnummer) and the apartment number to us. We're working on finding out why we were given the wrong information," the newspaper reported.