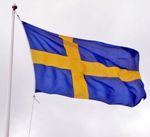 North Korean trade delegates have recently visited Sweden to study the Nordic country's economy and government. The effort, organised by the International Council of Swedish Industry and partially sponsored by the Swedish International Development Cooperation Agency, was reported by Swedish Radio at the weekend but has been kept very discreet.
The group of economists and business heads reportedly met with Swedish banking and business officials, and quietly toured a number of state agencies over the span of two weeks. The AFP said that Sweden's foreign ministry would not return calls on the matter.
The news comes just after the once-in-a-generation regime change for the isolated Asian country following the December death of Kim Jong II. Still, strict state controls on all North Korean industry remain, although experts say that the nation's new leader, Kim Jong-Un, appears to be seeking reforms.
Benny Olsson, who works as the director of marketing for a Swedish produce wholesaler, met with numerous delegates. He said, "They had millions of questions. They asked how much we earn, what the average salary is and many of the questions were about how involved the government is."
He went on, "They asked us if the government decided what the company's maximum salary is. They had to ask the question several times because I didn't understand. They come from a completely different world, they don't understand our world and I don't understand theirs. I don't know what jobs any of them had, all I know is that they were high-ranking economists from North Korea, that's it," TheLocal.se reports.
In contrast, lecturer Björn Berggren of the Royal Institute of Technology in Stockholm refused to comment on his conversations with the delegates. He told media, "I'm forbidden from doing so."