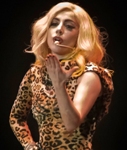 Singer Lady Gaga accepted the LennonOno Grant For Peace in Iceland on Tuesday 9 October. The American pop star is one of five individuals to receive the award; Gaga was honoured with the prize in the Icelandic capital on the 72nd birthday of the late John Lennon. Lennon's widow, Yoko Ono, presided over the ceremony.
Yoko told reporters, "Lady Gaga is one of the biggest living artists of our time. She is not only an artist, she is also an activist, using her art to bring better communication to the world. She is being acknowledged for her activism, and how her album 'Born This Way' has widely changed the mental map of the world. And how it has made us deal with the future world, which happens to be here already," entertainmentwise.com reports.
On accepting the award, Gaga said she would be donating her prize funds to Elton John's AIDS foundation.
Last month saw Ono announce jailed Russian female rockers Pussy Riot would become the fourth recipient of the LennonOno award this year. One of the band member's husbands accepted the award on behalf of the group last month inNew York; he said the group's prize money will go towards appealing the band's two-year prison sentence for staging a protest concert in aMoscowcathedral in February.
Additional 2012 recipients include writers Christopher Hitchens and John Perkins, as well as late peace activist Rachel Corrie.