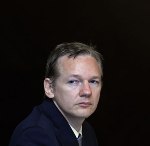 Officials from the Ecuadorian embassy in London have said the diplomatic mission is "prepared to withstand any situation" while providing Julian Assange with asylum.
The comments came during a press conference 100 days after the WikiLeaks founder took refuge in the embassy to avoid extradition to Sweden for questioning over a sexual assault case.
Ecuadorian foreign minister Ricardo Patino told the media on Wednesday that his country and the embassy were willing to protect the 41-year-old Australian for years to ensure his human rights.
As dozens of British police continue to surround the embassy, Patino said, "Absolutely we are prepared. Mr Assange we suppose is too, because he made the decision to request asylum and he knew the implications," The Local reports. He added, "We are willing to withstand any situations that arise. We are not going to go back on our decision."
Assange, whose Wikileaks website drew heavy fire in 2009 after revealing thousands of diplomatic cables on the web, remains firm that the incidents in Sweden involved consensual sex only. He and his supporters fear he will be sent to the United States to face prosecution over the leaks if the UK extradites him to Stockholm.
Mr Assange was heavily critical of Washington in his statement on Thursday, urging the US to back down: "It is time for the United States to cease its persecution of WikiLeaks, to cease its persecution of our people and cease its persecution of our alleged sources," he said.