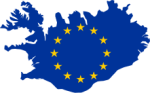 Icelandic officials are readying the country to phase out the krona once current capital controls are lifted, according to reports.
Katrin Juliusdottir, Iceland's new finance minister, told the Bloomberg news agency, "There's a risk that while Iceland continues to use the krona we'll always have capital controls. I'm not saying that it's impossible to abolish the controls and re-float the krona by using other supportive measures. However, in my opinion, the smart thing to do is continue working toward European Union membership and euro adoption."
She went on to add, "For a country that wants to have strong commercial links to the international community, it's hard to utilise the krona as the country's currency. That's a fact. Our currency is extremely volatile and sensitive toward external factors."
The comments come despite rising controversy surrounding the island nation's bid to join the EU and the euro, as the common currency crisis continues on the continent.
Meanwhile, Iceland's government is moving towards the removal of capital controls that were put in place following the country's banking collapse in 2008. According to figures from Arion Banki, the measures are currently keeping overseas investors from removing some USD 8 billion (EUR 6.2 billion) from the Icelandic economy.