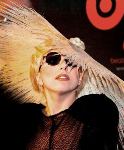 Popular U.S. singer Lady Gaga is expected to be in Iceland on 9th October to accept the LennonOno Grant For Peace from Yoko Ono as part of a ceremony taking place at the Harpa Conference Centre in Reykjavík.
According to the accompanying press release for the event, Yoko Ono stated that Lady Gaga is: "one of the biggest living artists of our time. She is not only an artist; she is also an activist, using her art to bring better communication to the world. She is being acknowledged for her activism, and how her album Born This Way has widely changed the mental map of the world. And how it has made us deal with the future world, which happens to be here already."
The event will also be honouring Rachel Corrie, a 23 year old peacemaker from Olympia, Washington, who was killed during a peaceful-demonstration against the demolition of a Palestinian family home in Gaza; the Russian rock band Pussy Riot, who's protest concert in an Orthodox church early this year resulted in three of the band's members being arrested and imprisoned for two-years; Christopher Hitchens, a writer and journalist best known for his extensive writings on the negative effects of organised religion; and John Perkins, author of the best-seller Confessions of an Economic Hitman, and founder of the organization Dream Change and The Pacha Mama Alliance.
The LennonOno Grant For Peace is awarded every two years in Iceland's capital Reykjavík. Now in its fourth edition, the ceremony will be taking place at the Harpa Conference Centre at 14:00 GMT.
The event will followed by the lighting of Imagine Peace Tower on Viðey island; the tower, created by Yoko Ono, is a tribute to the artist's late husband John Lennon who was born on 9th October 1940.
To watch the lighting of the Imagine Peace Tower live, visit http://imaginepeacetower.com/.