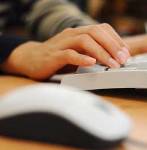 Internet service providers in Iceland may move to apply default pornography blockers on content sent to computers and mobile devices. Reports said this week that Vodafone in Iceland has shown interest in applying such a setting, which would require users to opt-in for adult content since it would be initially blocked as a default for all users.
The move comes amid rising controversy in the United Kingdom as a government-backed consultation into a similar scheme closed on Thursday (September 13).
Vodafone Iceland's chief compliance officer Hrannar Pétursson, explained the proposal: "Instead of having to turn the filter on, customers who choose would have to turn the filter off, using their self-service page. This would not require them to list the sites they want access to and would happen without any interference by us," Mobile Entertainment reports.
Meanwhile, officials from Vodafone rival ISP Síminn said that the company already has a feature to block adult content. However, the setting is not a default and the firm has said that it is not yet intending to change that.
Spokesperson Margrét Stefánsdóttir said on behalf of Síminn, "For now, Síminn watches closely the discussion on the topic, as for example in Britain, and in our opinion, the internet service providers should take full part in these discussions."
She added, "In the nearest future, Síminn will consider further actions towards protection of children."