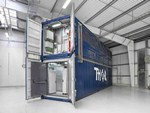 A new green data center has been established using Intel and HP technologies in Iceland that allows for the academic research infrastructure organisations of Sweden, Denmark and Norway to remotely share its supercomputer data-roaming services.
Due to growing power consumption and soaring power costs, supercomputing costs are an increasing economic burden for researchers and their universities in Scandinavia. To address these challenges, the Advania Thor Data Center (AT/DC) allows the academic community of Sweden, Denmark and Norway to remotely share the data center's services.
Located in Reykjavik, the Advania Thor Data Center uses powerful natural resources and cost-efficient natural air cooling. Its high-performance computing (HPC) platform consists of 288 HP ProLiant BL280c G6 servers powered by Intel® Xeon® processors 5600 series. This innovative facility provides a new model for shared, energy cheap and energy-efficient HPC resources, potentially changing the future delivery of computing services.
The AT/DC is a 28,000 square foot facility and is one of the most energy efficient data centers in the world. Using free-cooling elements, power utilisation is extremely efficient.
The data center is powered by clean, renewable hydroelectric and geothermal energy sources and offers a unique value proposition for companies who require a reliant and cost effective hosting service in a 100 percent green, zero-carbon footprint environment.
Intel recently published a detailed case-study about the Advania Thor Data Center. This case study can be viewed via http://www.intel.com/content/dam/www/public/us/en/documents/case-studies/it-efficiency-xeon-5600-advania-thor-study.pdf.