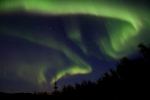 Super Jeep tour provider SuperJeep.is is offering Northern Lights tours in Iceland for the upcoming winter travel period.
As the days get shorter and nights get darker, the Northern Lights season in Iceland begins with full force. Iceland's location just below the Arctic Circle is the perfect destination to experience the natural light displays of the Aurora Borealis, as they occur most frequently in the Polar Regions, centered within a 2500 km radius of the geomagnetic pole.
SuperJeep.is is a family run company that offers one-of-a-kind peronalised Northern Lights tours, whereby the tour provider takes thrill seekers to a unique location in the Icelandic countryside in one of its Land Rover Defender Jeeps. Every tour destination is different with SuperJeep.is, as the company uses its expert knowledge of the area in order to find the best Northern Lights viewing spot for that specific day.
The company's fleet of Land Rover Defender Jeeps are well equipped for the Icelandic terrain so that the knowledgeable tour guides can take visitors to destinations in Iceland that coaches just cannot reach.
SuperJeep.is is also renowned for offering high levels of customer comfort on all of its tours. All of its Defenders are fitted with leather seats, which are perfect for long journeys. These vehicles also offer free Wi-Fi so travellers can share their photos online as soon as they are taken, and provide 220v inverters which can be used to charge mobile phones and computers. Also, selected vehicles are fitted with DVD players, which will keep children entertained during long journeys.
Furthermore, SuperJeep.is has been recently been awarded the Certificate of Excellence for the year of 2012 by the popular travel website TripAdvisor, after gaining a user rating of 5 out of 5 from its guests.
To find out more regarding SuperJeep's Northern Lights tours in Iceland, visit www.superjeep.is.
Image: flickr.com/olafur