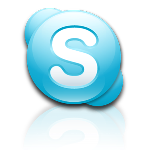 Telecom companies in Denmark may soon bar consumers from using Skype and similar programs on their mobile networks.
The Copenhagen Post reported last Friday that three of Denmark's major mobile providers – Telia, TDC and Telenor – have recently introduced clauses in their contracts stating that the provider could block Skype, Apple's SMS scheme and other web communication programs from any phone, tablet or personal computer using their network.
Despite the threat, no Danish firm has yet implemented the move.
Experts note that telecom firms in the United Kingdom, the United States, Spain and several other countries in Europe already block internet calling schemes in user contracts. Already, nearly 80 percent of providers' bandwidth is comprised of web traffic, whilst 80 percent of telecom revenue comes from voice usage, according to the Copenhagen Post report.
Spokesman Mette Honoré told the newspaper on behalf of Telia, "There is no question that something is coming," but added that his organisation was not going to be the first to enforce a ban.
Meanwhile, the threat has caused a stir among consumer advocates. Economist Martin Salamon from the Forbrugerrådet consumer watchdog said, "The telephone companies are setting the stage for a violation of net neutrality by restricting access to the free internet," the Berlingske news agency.