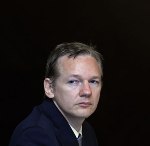 The father of Wikileaks founder Julian Assange has said his son could spend up to a year in the Embassy of Ecuador in London.
John Shipton, the biological father of the controversial figure, told reporters this week that he is in frequent contact with Assange, who remains cornered in the diplomatic facility after he was granted asylum by Ecuadorian authorities last month.
Sixty-eight-year-old Shipton told AFP that Julian was prepared for the ordeal and that he "faces his future with equanimity".
He also revealed to reporters on Saturday (15 September) that his son still had plans to run for a seat in the senate of his native Australia. Regarding Julian's current debacle, he said, "This occasion is a further opportunity to generate support for Julian's situation."
Julian Assange took refuge at the embassy in June amid efforts to extradite him to Sweden for questioning in a sexual assault case. Mr Assange has maintained that he the sex was consensual and fears that Stockholm will in turn extradite him to Washington to face charges relating to the release of thousands of US diplomatic cables in 2009 via his Wikileaks website.