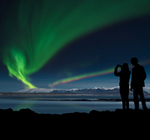 One of Iceland's most breathtaking natural spectacles, the Northern Lights, has been placed third as part of CNN's 27 'must see places before you die' list.
CNN ranked the Northern Lights in third place on its list, commenting, "This astronomical phenomenon is best seen in winter from northern Scandinavia — but there are never any guarantees, which makes the magic moments when they do appear all the more special."
The Northern Lights are without a doubt one of the Mother Nature's most awe-inspiring spectacles in the world. The natural light displays of the Aurora Borealis occur frequently in the Polar Regions, centred within a 2500 km radius of the geomagnetic pole. Iceland's perfect location just below the Arctic Circle provides the ideal destination to view the Northern Lights.
The Northern Lights were on a prestigious list alongside other breathtaking landmarks such as the Taj Mahal; the Sydney Harbour; watching the sunrise at Borobudur in Indonesia, and the Lake District in the UK.
Iceland's leading airline Icelandair is offering its Northern Lights City Break package deal for stargazers to view these dancing lights for themselves. Included within the Northern Lights City Break are return flights from either Manchester, Glasgow, or London Heathrow; three nights hotel accommodation (extra nights are available), and an evening coach trip with Reykjavik Excursions to the best Northern Lights viewing location on that evening.
As part of the trip, visitors might see the Northern Lights just outside of Iceland's capital, Reykjavík, or perhaps from the middle of a lava field an hour's drive into the countryside. Every tour is unique, and is planned according to up-to-date weather and solar activity reports.
To book Northern Lights tours in Iceland, as well as flights to Iceland, visit www.icelandair.co.uk.