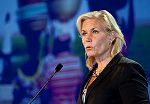 The Swedish government has pledged some SEK 25 million (EUR 3 million) for humanitarian aid efforts in war-torn Syria.
The sum, which according to officials will go directly to the UN's refugee support organisation, brings Sweden's total funding for relief efforts in the Middle Eastern country to 182 million kronor (EUR 21 million) so far in 2012.
Gunilla Carlsson, Sweden's minister of development aid, said in a statement on Friday (31 August), "We've decided to free up an additional 25 million kronor for Syria, via the UNHCR," The Local.se reports. However, she went on to warn that setting up UN-backed safe zones could send the message, "that we have the military capacity to maintain security around such zones".
Recent figures from the UN have suggested that there are now some 1.2 million displaced individuals in Syria. Many have taken refuge in public facilities around the country amid the ongoing clashes and unrest in the uprising against President Bashar al-Assad.
Similarly, the UN Food and Agriculture Organisation said earlier in the summer that around 2.5 million Syrians had been affected by the conflict and that more than three million had been rendered "food insecure".
Tensions in the country have risen steadily since the uprising began in March, 2011; thousands of Syrians are demonstrating against more than 50 years of Syrian rule by the Ba'ath Party.