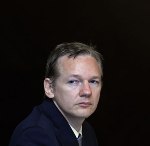 The UK's foreign secretary has said that claims that Julian Assange may be sentenced to death in the US are unfounded.
Speaking this week in Parliament, William Hague told ministers that both the United Kingdom and Sweden would work to ensure the Wikileaks founder's human rights are preserved should he be sent elsewhere to face trial for the release of thousands of diplomatic cables.
Assange has been granted asylum by Ecuadorian authorities and remains in the country's London embassy amid an ongoing standoff. The 41-year-old whistleblower took to the diplomatic facility in June amid efforts to extradite him to Stockholm, where he faces questioning for an alleged sexual assault.
However, the Australian native denies any wrongdoing and says that the charges are an attempt to extradite him to Washington to stand trial over the release of classified documents on Wikileaks.
Mr Hague told MPs, "As we have discussed with the government of Ecuador, the United Kingdom and Sweden robustly implement and adhere to the highest standards of human rights protection. The suggestion that Mr Assange's human rights would be put at risk by the possibility of onward extradition from Sweden to a third country is also without foundation," the BBC reports.
Mr Hague added, "In practice, this means that the United Kingdom could only consent to Mr Assange's onward extradition from Sweden to a third country if satisfied that extradition would be compatible with his human rights, and that there was no prospect of a death sentence being imposed or carried out."