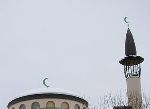 A Swedish politician has said that Islam and its followers should be banned in the Scandinavian country.
The comments came at the weekend via Pär Norling, the figure head of the Bollnäs Sweden Democrats (SD) group. He said during an interview with Sveriges Television (SVT) on Saturday, "Ban Islam in Sweden and deport those who persist in believing in the religion."
Norling's controversial statement comes amid rising tension between Muslims in Sweden following a controversial rape case in Bollnäs on 16 July, which prompted a subsequent demonstration by a national neo-Nazi group the Swedish Resistance Movement (Svenska Motståndsrörelsen) later in the summer.
Mr Norling said during the interview that he did not support the neo-Nazi movement in Sweden but said that he sided with them in the notion that Muslims do not belong in Swedish Society.
He told Sveriges TV, "That can exist elsewhere but in Sweden it doesn't fit in." The interviewer went on to ask how authorities would handle those still wanting to practice Islam under such a law, to which he replied, "Then the solution is deportation."