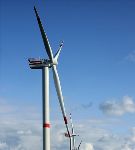 Danish wind turbine company Vestas is to cut an additional 1,400 jobs.
Officials from the firm said that the move comes ahead of predicted sluggish demand in the industry next year, and will provide the organisation with some EUR 100 million in cost savings.
The news comes after Vestas cut 2,335 jobs earlier in the year as a result of slowing sales. The firm currently has around 1,900 workers employed in its production facilities worldwide. More than half of the workers affected by the latest move are based in Europe, around 20 per cent are employed in the Americas and around 25 per cent are working in the Asia-Pacific region.
Ditlev Engel, chief executive of Vestas, said, "The further reduction in the workforce is part of the continued cost saving plans that Vestas has been working on since November 2011."
He added, "It is always unfortunate to have to say goodbye to good colleagues in Vestas, but we have said before that 2012 will be tough and 2013 will be even tougher for Vestas, and in order to reach our target of making 2013 profitable, it is unfortunately a necessity."
Reports suggest that the company is currently amid negotiations with labour unions, whilst Vestas said the details of the cuts would be released in the coming weeks.