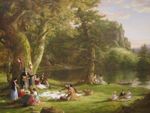 Residents of Stockholm saw significantly low number of warm weather days over the summer.
According to the Swedish Meteorological and Hydrological Institute (SMHI), the Swedish capital only experienced six days in which temperatures exceeded 25 degrees Celsius between 1 June and 19 August. The figure marks a significant cool down from the 28 days of summer seen during the same period last year.
Similarly, Gothenburg experienced only five days over 25 degrees, whilst the city of Malmo in the south of Sweden only saw nine of the quasi-official 'summer' days.
Meteorologists attribute the particularly cool summer to wet conditions as well as a heat wave in the Mediterranean and southern European region over much of the season.
SMHI meteorologist Lisa Frost told reporters, "We've not had any real heat waves. In both June and July, we were only up there with a few temperatures over 25 degrees. There has also been a lot of rain."
She added, "We have had a really powerful high pressure system down in the Mediterranean. It was really hot there. It allows a low pressure system to come up over us, giving us unstable weather. We have seen occasional high pressure areas, but they have been farther south."
Despite the news, the last week saw the country's national temperature high for the year in Lund, where the mercury topped 32 degrees Celsius. Frost said of the news, "The seasonal maximum temperature tends to happen much sooner. It's remarkable."