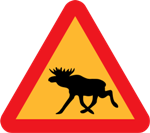 A Norwegian driver hit a bear this week, only seconds after swerving to miss a moose. Norwegian wildlife officers reported that the incident occurred on Wednesday in Hedmark County, more than 200kms north of Oslo.
Reports said that a moose walked out onto the road in front of the female motorist at about midnight close to the town of Hanestad. But despite the woman successfully manoeuvring around the animal, she struck a bear just a few metres beyond the moose.
The motorist managed to walk away from the ordeal unharmed. However, wildlife teams are now trying to locate the injured bear after blood was found at the scene of the accident. The driver's car was significantly damaged also, but the moose was unharmed.
Wildlife officer Svein Erik Bjorke told Reuters reporters, "the driver had lost a bit of speed as she tried to avoid the moose before hitting the bear. We are currently tracking the bear and we have found traces of blood indicating internal injuries."
There are some 150 brown bears and about 100,000 moose in Norway, according to the BBC.