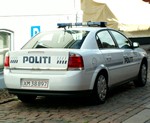 New statistics have revealed a drop in violent crime and burglaries in Denmark.
The figures, which come via the country's national police group Rigspolitiet, reveal a three percent year-on-year decrease in the number of crimes causing bodily harm during the first half of the year. In total, 8,980 of such cases were reported in the six months leading up to 1 July; the number also marks an impressive 22 percent reduction from 2006.
Moreover, the report also revealed a four per cent decline in the number of burglaries in Denmark.
Rigshospitalet commissioner Jens Henrik Højbjerg said in a statement, "I am very pleased to see that there is a decrease in bodily harm and that the risk of being exposed to violence has decreased. But, of course, we should remember that behind every single case is a citizen who has been exposed to an unacceptable action," the Copenhagen Post reports.
He went on to say, "For me, it is very important that the police are helping to create a sense of security for the average Dane, so it is very positive that we can see that the increased police action is working."
Similarly, justice minister Morten Bodskøv of the Socialdemokraterne Party told reporters that he welcomed the news.