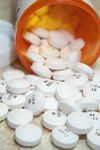 A new drug sold online has killed 14 young people in Sweden, according to reports.
The Swedish National Institute of Public Health (FHI, Folkhälsoinstitutet) is looking to quickly outlaw a new drug known as 5-IT after the National Board of Forensic Medicine (Rättsmedicinalverket) said that autopsy results showed that 14 males in their twenties have recently overdosed on the substance.
Now, the FHI has issued a warning against ordering drugs online. Anders Persson from the health agency said on Friday, "Often several different substances have been mixed into the powder or tablets that people buy, without their knowledge. And on chat forums different dosages are recommended. This makes the online drugs deadly," the Dagens Nyheter newspaper reports.
The popularity of online drugs, which are usually made in China and cater to those looking for the effects of amphetamines and ecstasy-type drugs, has mushroomed in recent years. Swedish television news agency TV4 reported that National Board of Forensic Medicine statistics show that some 500 Swedes have been killed by internet drugs over the last 10 years.
Meanwhile, FHI says its difficult to keep laws up to date with online drugs and that a 5-IT ban needs to be put on the fast track. Speaking of the recent autopsies, Person said, "Previously we haven't been able to make analyses because we lacked the resources to trace the substance. But now that there were so many, we could see that they had all used 5-IT," Dagens Nyheter reports.