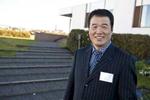 A wealthy Chinese investor is moving forward with plans to develop a 'Nordic holiday resort' in Iceland.
The news comes despite billionaire Huang Nubo's scheme being blocked by local authorities in 2011 over concerns regarding the sale of land to foreigners. However, reports said on Tuesday that he has revived the plans after securing a lease agreement for the 300-square-kilometre property.
Huang's investment firm Beijing Zhongkun is looking build a golf course, nature trails and around a 100 luxury villas on a small "developable" portion of the land. The firm said that it is likely sell most of the villas to wealthy Chinese people, which officials said may cover the cost of the entire investment.
Mr Huang said in an interview with Bloomberg, "The lease agreement is also acceptable and the final outcome is not bad. Our total investment will probably be less than USD 200 million (EUR 163 million), but it's not a small deal there."
Reykjavik had originally put a stop to the scheme in November after ministers ruled that selling the land to Beijing Zhongkun would be "incompatible" with local ownership regulations.
Reports indicate that Huang is also planning investments in other Scandinavian countries, notably Sweden and Denmark.