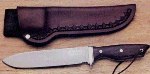 A Swedish business owner was pressured into giving a man a job after he threatened to cut off his fingers with a hunting knife.
The ordeal took place last week in the town of Hudiksvall, after a 26-year-old male was originally turned down for a job at a small business. The enraged jobseeker then drove to the home of the business owner with a hunting knife, a cutting board, pliers and other weapons, the Hudiksvall Tidning newspaper reports.
The man first threatened to kill the business owner's family, but went on to say that he would cut off his fingers if he did not receive a job offer. The owner obliged and even offered his car to the attacker, signing his name on the transfer paperwork.
However, the incident was later reported to local police, who arrested the 26-year-old at his home. Officials said to reporters from the newspaper that the assailant has been accused of threatening several other individuals in the small community in eastern Sweden.
According to The Local, the man has since been charged with a number of crimes including assault, obstruction of justice, extortion and making illegal threats.