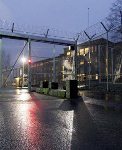 A man convicted of attempted murder was able to walk away from a Danish prison at the weekend after convincing a guard he'd been freed.
The convict, Mohammed Figuigui, dubbed 'The Painter', reportedly convinced a guard at the facility that he had been given permission to leave the grounds, before he fled the scene in a taxi.
The prison guard realised that he had been fooled when another prisoner approached him to leave with the same weekend pass. Danish media has since reported that the prison employee is now on suspension.
The director of the Oestjylland Prison on the Jutland peninsula confirmed with AFP on Monday that, "a prisoner escaped on Friday afternoon". Police in Copenhagen later told local media that Figuigui was the individual at large and that an international arrest warrant for the fugitive has been issued. Police suspect that he may now be in Morocco, according to some reports.
Figuigui, who was serving an eight-year sentence for trying to kill a witness in a criminal trial, has tried to escape on two previous occasions.
The Oestjylland is considered one of the country's most modern and secure correctional facilities. Built in 2006, it houses 228 prisoners and employees some 260 individuals.