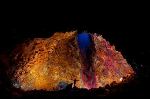 Iceland's own Þríhnúkagígur volcano and its unique volcano tour has received recognition in CNN's 27 'must see places before you die' list, ranking at number thirteen.
CNN listed the volcano tour to the magma chamber of the dormant Þríhnúkagígur volcano at the number 13 slot, ranking above Monument Valley in the U.S., India's Taj Mahal, and the Lunar rainbow at Victoria Falls, Zambia.
"Iceland is a spectacular living wilderness, and in summer it's possible to journey right into the inner cavity of the Þríhnúkagígur volcano, which has been dormant for 4,000 years," explained CNN regarding Þríhnúkagígur and the volcano tour.
According to the tour provider 3H Travel, the Þríhnúkagígur volcano is the only place on earth where the magma chamber is accessible and currently safe to explore. The size of its chamber is enormous, with enough space to fit the London Eye inside; the ground space is roughly the size of a football pitch. The distance from top to bottom is about 150 meters (450 ft.).
Þríhnúkagígur last erupted over 4000 years ago and it's located approximately 30km/20miles from Reykjavík. The operation of this unique and exclusive tour, only available until August 20th this year, is a part of an ongoing environmental, geological, and marketing research on the volcano.
Future plans include making the phenomenon accessible to the public by building a ground tunnel leading into the chamber, hence creating one of the most unique tourist attractions in the world.
The tour will be operating until 20th August 2012, with several confirmed departures each day during that period. The tour is operated in small groups and takes approximately 5-6 hours to complete, including up to one hour inside the volcano.
Iceland's leading airline Icelandair is offering the Þríhnúkagígur volcano tour as an add-on as part of any of its package deals to Iceland.
For information regarding flights to Iceland and packages to Iceland, visit www.icelandair.co.uk.