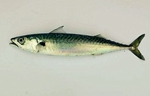 An Irish official has urged the EU not to allow Iceland to increase its annual mackerel quota.
The plea was made in Brussels on Monday by Simon Coveney, the Irish agriculture and marine minister, who said allowing Iceland to take a greater number of fish could have serious implications on Irish interests.
Ireland has traditionally been fairly dependent on mackerel fishing; It is the republic's most important marine product, worth some EUR 120 million annually.
Meanwhile, Icelandic fishing operations have taken increasingly large amounts of mackerel from North Atlantic waters in recent years. Reykjavik has defended the practice by saying that the species is now found in Iceland's waters in increasing numbers and duration over the summer season.
Mr Coveney said in a meeting with European marine heads that "any scenario that would reward the unsustainable and opportunistic mackerel fishing by Iceland should not be supported", RTE.ie reports. The comments come just two months ahead of the resumption of talks with Iceland regarding the issue.
Meanwhile, Dublin by joined by Portugal, France, Scotland and Spain in saying that Iceland is harvesting a disproportionate amount of mackerel stock and has failed to provide any historical or scientific evidence of its defensive claims.