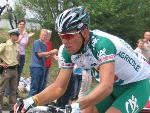 A top cyclist from Norway has backed out of the forthcoming road race at the London Olympics due to an illness.
The last-minute withdrawal of 2010 world champion Thor Hushovd comes less than two weeks before the opening ceremony in London, prompting the four-man Norwegian men's cycling team to replace the competitor with Vegard Stake Laengen. The replacement comes despite the fact that Laengen withdrew from the Tour de Poland just one week ago and had already pulled out of the Tour de France.
Officials from the Norwegian Federation said in a statement on the team's website that Hushovd has still not recovered from a viral infection. Hushovd said in a statement that the decision to forego the event was made because he is not in optimum condition, despite the Olympics being his top priority.
Hushovd, 34, was due to race alongside his teammates in the Olympic road race on 28 July.
Speaking prior to the announcement, he said, "I will travel to London but have to give myself a couple of days and talk with Olympic Committee and figure out what to do. I came here to Poland after a long break from competition, and was happy to run the race again. But I found out after four stages that I am far from my level," the Fædrelandsvennen newspaper reported.