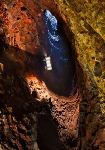 American broadcaster CNN has recently named two of Iceland's natural wonders as part of its 27 'must see places before you die' list.
CNN listed the volcano tour to the magma chamber of the dormant Þríhnjúkagígur volcano, situated 25 minutes' drive from the capital Reykjavík, and the most dazzling light display on Earth, the Northern Lights, within the ranks of its bucket-list.
"Iceland is a spectacular living wilderness, and in summer it's possible to journey right into the inner cavity of the Þríhnjúkagígur volcano, which has been dormant for 4,000 years," mention CNN regarding the volcano tour, listed at number 13.
According to the tour provider 3H Travel, the Þríhnjúkagígur volcano is the only place on earth where the magma chamber is accessible and currently safe to explore. The size of its chamber is enormous, with enough space to fit the London Eye inside; the ground space is roughly the size of a football pitch. The distance from top to bottom is about 150 meters (450 ft.). Tours to Þríhnjúkagígur will be operating until 20th August 2012.
Additionally, the Northern Lights entered in at an impressive third place, with CNN commenting, "This astronomical phenomenon is best seen in winter from northern Scandinavia — but there are never any guarantees, which makes the magic moments when they do appear all the more special."
With Iceland located on the cusp of the Arctic Circle, the country offers the best viewing platform for Northern Lights spotting this winter.
These spectacular natural wonders were on a prestigious list alongside other breath-taking landmarks such as the Taj Mahal; the Sydney Harbour; watching the sunrise at Borobudur in Indonesia; and the Lake District in the UK.
To book flights and packages to Iceland, visit www.icelandair.co.uk.