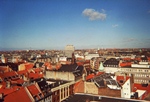 Copenhagen has been named the European Green Capital for 2014. The Danish capital edged out Bristol in the United Kingdom and Frankfurt for the 2014 title, which is announced annually by the European Environment Agency (EEA). Officials said in a ceremony in Spain that the city was chosen because of its ongoing sustainable mobility and eco-innovation efforts.
According to the EEA, the Green Capital award is designed to encourage European cities to improve urban lifestyles through environmental awareness and careful planning. Thirteen cities were nominated for the 2014 award.
Copenhagen has enacted a successful strategy in recent years that allows up to 35 per cent of commuters cycle to work, although planners are aiming to increase that figure to 50 per cent by 2015 in the effort of becoming fully CO2 neutral by 2025.
Janez Poto?nik, the EU environment commissioner, said in a statement, "I congratulate Copenhagen on the example they are setting. We have much to learn from the city's efforts to improve the environment and quality of life for citizens, whilst creating new business opportunities, and I look forward to their year as European Green Capital".
He added, "They will have numerous occasions to showcase their expertise and their creative approach to urban planning and to developing a green economy."