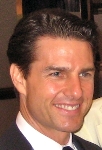 The 49-year-old Hollywood star is still in Iceland three days after his wife Katie Holmes announced that she was filing for divorce.
Tom Cruise came to Iceland along with his wife of five years, actress Katie Holmes and their daughter Suri around mid-June. The couple spent a few days in Reykjavik where they were spotted holding hands in the city centre by a number of passers-by.
Cruise later headed to northern Iceland near Lake Myvatn to be on the set of his upcoming film Oblivion and the family was to celebrate the actor's 50th birthday in Akureyri on July 3rd.
Katie Holmes, however, flew back to New York earlier than expected last week and filed for divorce shortly after. The actress is requesting sole custody of the couple's only child, 6-year-old Suri.
The move apparently came as a surprise for the Top Gun actor who said he was "deeply saddened" that Holmes had filed for divorce. Tom Cruise is expected to stay in Iceland during most of July to continue the shooting of the film Oblivion.