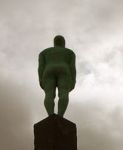 Seattle residents were surprised this week when they found they were sharing their park with 26 life-sized figures sculpted by Icelandic artist Steinunn Thórarinsdóttir. The aluminium and cast iron forms can be seen sitting on benches and standing in positions of silent conversation in Westlake Park, while smaller figures and photographs of the exhibition known as 'Borders' are also being displayed in the Nordic Heritage Museum.
Wednesday (June 6) saw the opening ceremony at the park, attended by Seattle City Council member Tom Rasmussen, deputy mayor of Seattle Darryl Smith and Ambassador of Iceland to the United States Gudmundur Árni Stefánsson. A formal reception was then held later at the museum.
In a statement, the Nordic Heritage Museum said, "With her life-size sculptures, Thórarinsdóttir seeks to bring a significant and striking artistic experience to the daily lives of Seattle citizens and visitors. The figures will stand dispersed around the park and seated on park benches, mirroring each other in silent conversation and form unseen borders that visitors are welcome to cross – serving as ambassadors between sculptures.
"The exhibition addresses humanity and cultural diversity, an appropriate theme for one of the most culturally and politically active sites in Seattle. Borders will connect many diverse constituencies to new artistic experiences, foster conversation, and provide a unique backdrop for daily events at this public space."
The exhibition was also displayed in New York City last year.