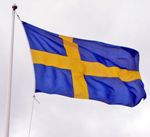 The beheading of the UK golf club owner by a Swedish citizen has raised questions about why the killer was allowed to leave Sweden despite already being accused of serious violent crimes. The UK's immigration minister Damian Green this week penned a letter to Swedish justice minister Beatrice Ask following the conviction of Jonathan Warg Limani.
In March, the Swedish citizen, originally from Albania, was sentenced to 19 years in jail after being found guilty of beheading Christopher Varian with a cheese knife at Oxfordshire Golf Club in August 2010. According to Sveriges Radio (SR), Limani was suspected in Sweden of assault, making threats to kill and attempting to steal a gun from a policeman's holster, but was still allowed to leave the country in the weeks before the beheading.
"Before coming to the UK we believe Mr Limani was involved in an incident in Sweden in which he took a police officer's firearm and that he was on police bail over this incident," Green wrote in his letter to Ask.
The UK minister went on to say that he has promised Mr Varian's family that he would find out while Limani was released on bail and allowed to leave the country.
"I recognize that none of our systems is perfect, the UK included. We are looking into our own arrangements for processing this sort of information both within the UK and farther afield within the EU," he wrote.
"We would be happy to share with you the emerging findings of this work and discuss ways in which we could work together to try and improve the flow of information between member states on this sort of criminal case."
During the trial, police described how they arrested Limani when they found him at the golf club sitting next to Mr Varian's decapitated body. The original murder charges against the 33-year-old were reduced to manslaughter on the grounds of diminished responsibility after he was found to be mentally ill by several examiners.