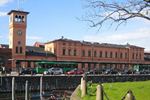 Three women are the latest to be arrested in connection with the fatal shooting of a man in broad daylight in Sweden's troubled Malmö area. One woman is suspected of protecting a criminal, while the other two are believed to have ordered the killing.
Charles Limerius was killed on January 3 this year just metres from his door in Kantatgatan, in what was one of several fatal shootings in the city between 2011 and early 2012. A 28-year-old father-of-two, who has no criminal record but known connections to Malmö's underworld, is suspected of carrying out the murder. He is currently being held in custody but denies any wrongdoing.
Police are still considering a theory that Limerius could have been killed in a case of mistaken identity, as a man with a long criminal history also lived at his address. The Swedish media has speculated that the killing could have been carried out in retaliation to a 1992 murder, the victim of which apparently had ties to the 28-year-old murder suspect.
"One of the leads we're working on supposes he [Limerius] was shot by mistake," police investigator Monica Olhed told TT at the time.