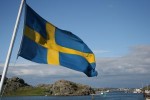 A 101-year-old Swedish woman scared a bungling burglar out of her home by beating him over the head with her stick, according to media reports. The centenarian sprang into action when the 44-year-old tried to force his way into her home in Umeå, northern Sweden, while dressed as a police officer.
"I'm glad that I didn't hit so hard that I hurt him," Barbro Boström told daily Aftonbladet.
According to the newspaper, Ms Boström pushed the would-be thief against the wall before asking him, "Do you really want it to be on your conscience that you murdered an 100-year-old?" Hearing the commotion, a neighbour then looked in on the skirmish, at which point the man made a run for it.
According to police, the 44-year-old stole from numerous pensioners between December 2011 and January 2012 while dressed as a policeman.  He also carried out at least six other failed attempts before he was caught.
The man's car, packed with cash, jewellery and make-up, was stopped by police in Sundsvall, northern Sweden, on January 30. He is also believed to have used stolen bank cards to withdraw SEK 91,000 (EUR 9,990) from his victims' accounts.
"He has taken advantage of the victims given their old age. They have quite simply not dared to refuse in some instances, as they have believed he was a police officer," prosecutor Jonas Svanfeldt told the paper.
The man, who has been convicted of similar crimes in the past, stands accused of aggravated theft and fraud. He denies all the charges.