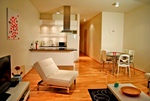 Reykjavik4you is offering accommodation that caters for groups in its downtown hotel apartment complex in Reykjavik – perfect for this summer's family holiday.
Reykjavik4you Apartments offers several deluxe two bedroom apartments in downtown Reykjavik, equipped with everything needed for a family or group. The dining area and kitchen are equipped with everything needed to make it feel just like a home away from home. Also, the bathroom accommodates a Jacuzzi for a little bit of luxury.
The company's deluxe apartments have a floor space of 100 sq m (1075 sq ft) and comfortably accommodates 6 adults, each bedroom being furnished with a king-size, bed and the living room with two sofa-beds. Towels, bathrobes, slippers shampoo and conditioner are also included.
These apartments are located in a new building on Laugavegur, the main shopping street, which features a variety of interesting shops, restaurants and cafes.
Furthermore, Reykjavik4you Apartments has received a TripAdvisor Certificate of Excellence award. The accolade, which honours hospitality excellence, is given only to establishments that consistently achieve outstanding traveller reviews on TripAdvisor, and is extended to qualifying businesses worldwide. Approximately 10 percent of accommodations listed on TripAdvisor receive this prestigious award.
Svala Óskarsdóttir, owner and Hotel manager at Reykjavik4you Apartments Hotel, commented, "Reykjavik4you Hotel Apartments is pleased to receive a TripAdvisor Certificate of Excellence. We strive to offer our customers a memorable experience, and this accolade is evidence that our hard work is translating into positive traveller reviews on TripAdvisor."
Christine Petersen, president of TripAdvisor for Business, explained, "TripAdvisor is pleased to honour exceptional businesses for consistent excellence, as reviewed by travellers on the site. The Certificate of Excellence award gives highly rated establishments around the world the recognition they deserve. From exceptional accommodations in Beijing to remarkable restaurants in Boston, we want to applaud these businesses for offering TripAdvisor travellers a great customer experience."
To find out more about hotel apartments in Reykjavik, visit http://www.reykjavik4you.com/.