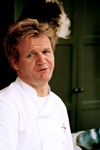 British celebrity chef Gordon Ramsay has been slammed by wildlife conservationists for eating whale meat while on holiday in Iceland. The foul-mouthed TV star was apparently spotted tucking into a minke starter at a restaurant last week.
The 45-year-old Hell's Kitchen host seemed to have no qualms about eating the meat, despite launching a campaign to save endangered sharks recently. Ramsay filmed a documentary about the illicit trade in shark fins two years ago.
Speaking to the Scottish Sun, Vanessa Williams-Grey, of the Whale and Dolphin Conservation Society, said "This year's whaling season has just begun and five minke have already been slaughtered. Much of it will end up on tourists' plates. I'm sure he [Ramsay] would be horrified to think he has helped keep this cruel industry alive."
Although commercial whaling is illegal, firms in Iceland have managed to exploit legal loopholes in order to continue hunting. Just last week, the country's lone fin whaler said he would not be participating in this year's season, but other companies continue to hunt for minke.
Although minke is not endangered, campaigners say the practice of hunting them is cruel as the mammals are subjected to a slow and painful death.
Ramsay was not available to comment on the story, but an insider apparently told the Scottish Sun, "These whales are not endangered like the sharks are."