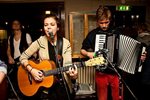 Up-and-coming Icelandic band Of Monsters and Men have told how the tall tales of their ancestors have shaped there music and lyrics. The six piece folk-pop outfit, which were first noticed in 2010 after winning the Músíktilraunir battle of the bands, said the phantasmal storytelling behind the My Head is an Animal album is inspired by their fathers' tales of trolls and ghosts.
Speaking to Spinner, vocalist and guitarists Ragnar "Raggi" Pórhallsson said, "I've had no experience with it, but my dad has. He told me one story when his grandpa had died; I think it was around Christmas time. He was just a little boy, my dad, maybe 11 or 12 or something. He went into the living room, and he saw his grandpa just sitting in the chair, and then he turned back and he was gone. Maybe my dad is just crazy. But even if his mind is just playing tricks on him, I think that's cool as well."
Pórhallsson added that the father of drummer Arnar Hilmarsson is also a believer in the supernatural. "Actually, in his dad's garage, there's a troll," said Pórhallsson. "His dad says he feels it."
"There is a troll," Hilmarsson confirmed. "But you shouldn't be afraid of it. It's a good troll."
The musicians also said that the fascination with such unworldly creatures led to the creation of the band's unusual name. "We are talking about monsters that exist that we should be afraid of. We have a few monsters in Iceland," Hilmarsson said. "I'm not afraid of them. I could probably beat them every day."
Pórhallsson explained that with songs like Numb Bears, King and Lionheart, and Dirty Paws, they have been keen to combine their own experiences with the fables of their forefathers.
"I like animals, and I think they're more fun than human beings," Pórhallsson told Spinner. "They're just very fun to write about. There's something simple about it. When we write the lyrics, we're often thinking about the human being as an animal; the raw animal instinct of a human being. It's like, how bad can people be?"
Speaking about their rise to fame since winning the small Músíktilraunir battle, Hilmarsson said, "The competition is great. It got us a spot in Iceland's Airwaves Festival, which got us on [Seattle-based radio station] KEXP, which got us our YouTube living room video, which got us millions of hits, which led us here, probably."
"It's all a part of the plan," said Pórhallsson. "It's all a part of some special plan. Some elves' plan."
"There are trolls doing various things," added Hilmarsson. "They meet in the mountains and make plans about us."
Image: flickr.com/olafur