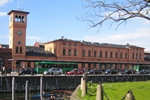 The mother of suspected Swedish serial killer Peter Mangs admitted to police that he had expressed racist views before he was arrested for a string of immigrant shootings in Malmö. According to police reports quoted by Aftonbladet newspaper, Mr Mangs' mother at first thought it was pure "idiocy" that her 40-year-old son had been arrested, but later admitted that he had shown signs of xenophobia in the past.
"It seems inconceivable that it is Peter who is responsible for this," she told police at the start of the interrogation.
The woman went on to explain, however, that her son came to see her regularly and would sometimes complain that "foreigners" were leading to the demise of the neighbourhood. "Then I would tell him 'You're a bloody racist. Shut up," she told the police.
The woman also found it hard to believe that her son had a weapons licence, insisting that he was more into crafts that shooting.
In addition, she was sceptical about him being diagnosed with Asperger Syndrome, according to Aftonbladet. "He was born with a slightly enlarged head, so he had to have an operation, but they said it would not give any complications," she apparently told police.
Mr Mangs is being charged with three counts of murder and 12 counts of attempted murder for allegedly terrorising Malmö's immigrant population between 2009 and 2010. Police believe he acted alone, shooting his victims in public places.
After months of investigation and much criticism of the police, Mangs was finally arrested after a tip-off from a member of the public. He denies all the charges.