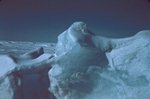 Norway's state-owned Statoil firm has signed a deal with Russian oil giant Rosneft to explore the sea around the Arctic. The joint venture, a third of which will be owned by Statoil, will see the exploration of one of Rosneft's fields in the Barets Sea as well as three blocs in the Sea of Okhotsk in the Far East.
In an indication of the Russian company's global ambitions, this is the third deal to be signed in the last month following other tie-ups with US giant Exxon Mobil and Eni of Italy.
Although Statoil assured the BBC that it has "not given any valuation of the deal", some media commentators are putting it at around $2.5 billion.
"Pending results, further exploration wells could be drilled and, if we are successful in making discoveries, there will be substantial investments for developments," said Statoil spokesman Bard Glad Pedersen.
Russian Prime Minister Vladimir Putin, who is to resume his role as president, was there at the signing of the contracts.
"We value our relations with our neighbours and are confident that the project will develop well," Mr Putin said. "There is no question that it will not have the government's full support," he added.
The move has already been condemned by environmentalists who point out the devastating effect that an oil spill would have on the pristine Arctic region.