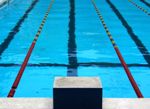 Norwegian swimming champion Alexander Dale Oen has died after suffering a cardiac arrest at the age of 26. Swimming federation officials say the 100m breaststroke world champion collapsed in the shower on Monday (May 1) after training in Arizona. Emergency services arrived on the scene within minutes but were unable to revive him.
Dale Oen, from Bergens, claimed the gold medal in last summer's World Championships in Shanghai, just days after terror defendant Anders Behring Brevik killed 77 people in Norway. Speaking about the tragedy after his win, the swimmer said the news had affected him deeply, but added that, "We can't let this guy ruin the future for us."
Norwegian Swimming Federation President Per Rune Eknes told NRK that Monday was the worst day in the history of Norwegian swimming. "We are all in shock… our thoughts go primarily to his family who have lost Alexander way too early," added Norwegian Coach Petter Loevberg.
Prime Minister Jens Stoltenberg also expressed his grief, saying, "Alexander Dale Oen was a great athlete for a small country. My thoughts go to his family and friends."
BBC sports analyst and Olympic bronze swimming medallist Steve Parry said he was deeply shocked by the news. "I thought it was a mistake – I mean such a fit guy, a world champion suffering a cardiac arrest," he said. "He was one of the nicest people involved in our sport. He was a rock solid guy. Usually a lot of people in his position don't have that much time but he made sure he had time for everyone."