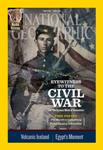 A photo of Iceland's Eyjafjallajökull volcano features in the new issue of the American publication National Geographic, alongside a number of other photos featuring the country's stunning beauty.
The article, titled 'Iceland's Resilient Beauty', features a series of photographs taken by Orsolya and Erlend Haarberg – two photographers who roamed Iceland for ten months in their camper van.
The article focuses on volcanic eruptions in Iceland, the country's glaciers, people, and sheep.
To view the photo gallery, click here. In addition, to read the National Geographic article in full, click here.
Photo: National Geographic