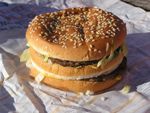 One of the defendants accused of plotting a terrorist attack against Jyllands-Posten newspaper claims his group were only in Copenhagen because one of them wanted a Big Mac. The four men, charged with weapons possession and terrorism, have begun their trial at Glostrup Municipal Court.
In taped testimony obtained by SÄPO, one of the accused, Sahbi Zalouti, initially denied they planned to take revenge on the paper for publishing controversial caricatures of the holy Muslim Prophet Muhammad in 2005.
"I do not know not where Jyllands-Posten is," he said. "We only came to Copenhagen because Mounir Dhahri wanted a Big Mac from McDonalds."
He later admitted, however, that an attack was planned, but claimed he attempted to intervene. "I tried to prevent them. I tried in every way," said Zalouti, according to the Copenhagen Post. "In the end it did not happen, but it was actually planned. Are you happy now?" he said.
He added that Mounir Dhari, another defendant, had been given orders from Pakistan to "kill as many as possible" in Denmark.
The group's car, containing a silencer, an assault rifle, ammunition and plastic restraining strips, was stopped outside the Danish capital in December 2010, with police initially believing they were planning a New Year's Day attack. It emerged last week, however, that they likely target was the Årets Fund sports award ceremony, an event that was held in the same building as Jyllands-Posten's offices.
"There are things in the investigation that suggest that this event was the target," the senior prosecutor, Henrik Plæhn, said in court.
Zalouti claims he did not know the weapons were in the car, but admitted that a pistol and machinegun were once kept in his Stockholm apartment. He is, however, pointing the finger at Mounir Dhahri, who he says was living with him at the time.
Zalout and Dhahri are accused, along with Omar Abdalla Aboelazm and Munir Awad, of plotting terrorist attacks similar to those seen in Mumbai in 2008, when a hotel was stormed by a group with automatic weapons, leaving 166 people dead. All four have pleaded not guilty to the charges but could face life in prison if convicted.