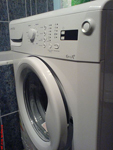 A boy from Sweden has lived to tell the story of a dramatic washing machine incident. The adventurous seven year-old was trapped in the appliance for several hours at the weekend after his attempt to explore its insides took a turn for the worst.
A rescue team of six were called to the child's village of Härjedalen, northern Sweden, on Sunday after he became stuck in the plastic basket portion of the top-loading washer.
A report in the Östersunds-Posten newspaper said that the boy was locked in the device with a vice-like grip, unable to move his hips back out of the top. Rescue teams said they quickly made the decision to dismantle the washer as there were no other options available.
Rescue team head Sven-Erik Svensson told Östersunds-Posten reporters, "We worked calmly and methodically to avoiding stressing the boy. We pulled the washing machine apart bit by bit, and in the end we had to cut up the actual drum. It took almost two hours before we were done".
He added, "Of course he was upset when he was stuck, but he was consoled and encouraged by one of his parents".
To the surprise of rescue workers, the child sustained only minor injuries and was up to mischief again shortly after being freed from the machine.