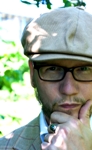 The acclaimed Icelandic novelist and poet Sjón has been shortlisted for the Independent Foreign Fiction Prize 2012 for his novel From the Mouth of the Whale.
Sjón – whose first novel The Blue Fox won the Nordic Council's Literature Prize – sets his story in Iceland in 1635, the pre-Enlightenment period when science was just beginning to challenge religious authority. It is narrated by the self-taught healer, Jónas Pálmason, who is exiled for blasphemy. Alone on a desolate island, Jónas, amidst his vivid recollections, is drawn into an epic adventure.
"The book is written in a pastiche of seventeenth-century Icelandic, with snatches of verse, and Sjón is a poet with an amazingly inventive style of his own," said Victoria Cribb, who translated From the Mouth of the Whale.
Nick Barley, Director of the Edinburgh International Book Festival, commented, "This memorable, magical book tells the story of an Icelandic sage banished to exile on Gullbjorn's Island in 1635. Sjón's remarkable tale imagines a delirious seventeenth-century Iceland swithering between mysticism and a new scientific rationalism and it is rendered brilliantly into English in Victoria Cribb's exuberant translation."
The six contenders shortlisted for the 2012 Prize are:
Alice by Judith Hermann, translated from the German by Margot Bettauer Dembo (The Clerkenwell Press)
Blooms of Darkness by Aharon Appelfeld, translated from the Hebrew by Jeffrey M. Green (Alma Books)
Dream of Ding Village by Yan Lianke, translated from the Chinese by Cindy Carter (Corsair)
From the Mouth of the Whale by Sjón, translated from the Icelandic by Victoria Cribb (Telegram Books)
New Finnish Grammar by Diego Marani, translated from the Italian by Judith Landry (Dedalus)
The Prague Cemetery by Umberto Eco, translated from the Italian by Richard Dixon (Harvill Secker)
The Independent Foreign Fiction Prize is awarded annually to the best work of contemporary fiction in translation. The Prize celebrates an exceptional work of fiction by a living author which has been translated into English from any other language and published in the United Kingdom in 2011. Uniquely, the Independent Foreign Fiction Prize acknowledges both the writer and the translator equally, recognising the importance of the translator in their ability to bridge the gap between languages and cultures.
Photo: Hörður Sveinsson