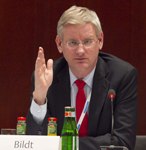 Swedish foreign minister Carl Bildt has denied claims by WikiLeaks that he has acted as an informant for the US.
The whistle blowing website has vowed to launch a smear campaign against Sweden in an attempt to stop the country extraditing their founder Julian Assange to the United States.
Assange is currently in the UK fighting an extradition order to Sweden to face sexual assault and rape allegations. The former hacker and his supporters claim the charges are politically motivated and are an attempt to get Assange to the US, where he could face the death penalty for leaking thousands of confidential and embarrassing documents.
Last Thursday Bildt admitted that he is taking the threats seriously.
"I have noted what Expressen [newspaper] has written about Wikileaks preparing a smear campaign. You can imagine my thoughts on that," Bildt said at a press conference in London. "It worries me that there are those who pursue smear campaigns and if WikiLeaks does, that says more about WikiLeaks than anything else," he added to Expressen.
Expressen reviewed an internal memo released by WikiLeaks, which outlined the organisation's plans to encourage the boycott of Swedish companies, organise blockades at Swedish embassies and publish more classified documents about the country.
However, the foreign minister claims to be baffled by an accusation that he has worked as an informant for the United States since the 1970s.
"I haven't got a clue what it could be about. But let's see if they have something to publish," Bildt said. "If they do publish these documents we'll probably see a quick end to this story," he added.
WikiLeaks claims that Bildt was recruited by Karl Rover, a former adviser to President George W Bush and a personal friend of the foreign minister.
"No, of course he didn't [recruit me]," Bildt told Expressen. "I know very many people around the globe. It is part of the duties of a foreign minister to brief other countries about sensitive topics," he said.