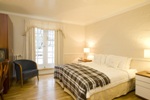 Popular hotel in Reykjavik Hotel Odinsve has received high praise on the leading travel recommendations website Expedia, earning a guest rating of 4.7 out of a possible 5.
Hotel Odinsve has received high praise by its previous customers, who have awarded the hotel with a rating of 4.7. According to Expedia, the hotel was commended for its friendly and helpful staff, clean and spacious rooms, and perfect location near the main shopping street of Reykjavik.
One guest commented, "This room was the best I have ever stayed in. We got such a great deal through Expedia and decided to upgrade to the apartment suite B–it was a regular apartment and I didn't expect it to be so big. We didn't need all the room, but it was a real treat for us."
The hotel holds a range of amenities for its guests, including a restaurant, a coffee shop, a café, and a bar lounge, all located on-site – it also boasts free wireless Internet for its customers.
All of its rooms have wooden floors, comfortable beds and high quality duvets and pillows from Kronborg of Denmark. Each room includes a shower, minibar, complimentary coffee and tea, satellite TV, radio, telephone, and hair dryer.
Situated in a charming residential area, Hotel Odinsve is located just a few minutes walk away from Reykjavik's main shopping street, Laugavegur, where over 100 bars, restaurants and cafes are situated, alongside numerous boutiques and retailers.
To find out more about Hotel Odinsve, visit www.hotelodinsve.is.