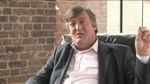 Iceland was under the spotlight in the BBC comedy quiz show QI this week, in the programme's festive special presented, as always, by Stephen Fry.
With Stephen Fry were the actor Brian Blessed and the comedians Sean Lock and Ross Noble – alongside Alan Davies, who is in every show and has a reputation for finishing in last place.
Among the things the contestants needed to do was to pronounce Eyjafjallajökull, guess what necropants are and answer why the Icelandic phonebook is so different from the British one. The programme was broadcast on Friday and was a special Christmas episode, themed on Iceland.
The contestants all knew some things about Iceland, but none of them could pronounce Eyjafjallajökull properly; although Brian Blessed gave it a jolly good try with very exaggerated pronunciation.
QI is short for "Quite Interesting" and the programme has been shown on the BBC since 2003. Each series is named after a letter in the alphabet. The current series is all about the letter 'I' and producers hope there will eventually be 26 series made of the popular show. Alan Davies is the only permanent guest on the show and Stephen Fry has been quizmaster since the beginning. The QI concept is the brainchild of the programme's director and producer John Lloyd; who has written for some of the BBC's most popular comedy shows, including Spitting Image, Have I Got News For You, Blackadder and more.