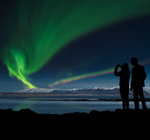 U.S. publication, USA Today has recently run a feature on viewing the Northern Lights in Iceland as part of its online travel magazine.
In the article, USA Today journalist Laura Bly travelled to Iceland in search of the illustrious Northern Lights. Whilst on her quest, she found more than she expected and discovered the celestial fireworks are "are just like Santa Claus, if you really believe, you'll see them."
During the article, Bly explains that she had been tempted to Iceland by off-season package deals; the island's prime vantage point, just below the Arctic Circle; a 5½-hour flight from the USA; and NASA's prediction that increased solar emissions could make this winter's displays of Northern Lights the most spectacular in 50 years.
Iceland's leading airline, Icelandair is offering some special off-season package deals of its own, giving visitors the chance to see this natural phenomenon for themselves.
Icelandair's Northern Lights and Glacier Walk package deal offers adventurous travellers the opportunity to walk through the wonderland of ice sculptures, ridges and deep crevasses of an Icelandic glacier before enjoying warm lobster soup and setting off in search of the beautiful sight of the Northern Lights.
The airline's Golden Circle and Northern Lights package deal not only offers an exciting Northern Lights tour, but also the Golden Circle tour to see some of Iceland's most renowned sights – see the old Viking parliament at Thingvellir National Park; the geysers of the Haukadalur area; the magnificent Gullfoss waterfall, and more.
To find out more regarding Icelandair's Northern Lights package deals, visit www.icelandair.us.