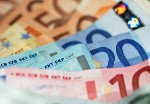 The European Union has paid out a billion euros in funding to accession countries this year and Iceland took EUR 12 million of that, new figures suggest.
A report from the EU this week reveals figures for funding provided to countries applying for membership of the bloc. Iceland's portion of that funding amounted to EUR 12 million, or ISK 2 billion, this year.
Turkey took proportionately the highest amount of the billion euro EU funding – with grants amounting to EUR 233 million. Next was Serbia, with EUR 178 million and Bosnia and Herzegovina received EUR 90 million. Unsurprisingly, Iceland's portion of the funding is the largest per capita of the population.
The funding to Iceland was roughly 37.50 euros per person in 2011; compared to 25 euros per person in Serbia, 23.50 per capita in Bosnia and Herzegovina and just EUR 3.16 for each person in Turkey. Turkey has a population of nearly 74 million, while around 320,000 live in Iceland.
The grants are intended to finance projects in accession countries which help to ease their progression into the EU, Vísir.is reported.