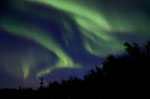 In light of Iceland recently topping the polls for Lonely Planet's Best in Travel Readers' Choice award 2012, Iceland tour provider, Iceland Total is offering various low-cost city breaks and tours, allowing for visitors to discover why the land of fire and ice has been chosen as number one.
With Iceland winning the Lonely Planet's Best in Travel Readers' Choice award 2012 in the country category and Reykjavik winning the city category, there has been no better time to visit the island.
Iceland Total is offering special deals on numerous Iceland tours, including several Northern Lights Packages. The ever popular Northern Lights City Break includes three night accommodation, trip to the Blue Lagoon, breakfast and a Northern Lights tour.
Every Northern Lights tour is different since the guide takes the group to the area where they are most likely to see the lights that day based on the weather.  The tour generally lasts three to five hours and makes for an exciting evening out exploring the rugged Icelandic wilderness.
Icelandtotal.com also offers the complete Iceland Travel guide, with in-depth information regarding sites and popular attractions, including videos and photos from previous tours. The website gives you the perfect chance to arrange that special holiday in Iceland.
To find out more about Iceland Total and the Northern Lights City Break, visit www.icelandtotal.com.