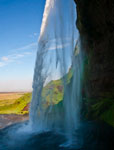 Iceland and its capital Reykjavik have hit the number one spots for Lonely Planet's Best in Travel 2012 list as the top country and city to visit, as voted by its readers.
Lonely Planet, the largest travel guidebook and digital media publisher in the world, compiled some 3000 votes by its readers and staff for the annual Best in Travel Readers' Choice award. After the final votes were counted, Iceland came out on top as the most favourable country, and Reykjavik as the most favourable city to travel to in 2012.
Iceland was awarded with a huge 32 percent of the total votes, with the next country, Italy, receiving only 13 percent. Reykjavik also won with a significant margin of 27 percent of the total votes, with Lisbon coming in second with 15 percent of votes.
This is not the only time Iceland has been voted as a top travel destination. Lonely Planet voted Iceland as one of its 'Perfect Trips for 2010', and then again in 2011 listing Iceland's Westfjords as one of its 'Top 10 regions to travel for 2011'.
Lonely Planet readers stated that seeing the rift valley between the American and European geological plates, visiting glaciers, seeing a real volcano, walking on terrain that cannot be seen anywhere else in the world, and the geothermal heated pools are amongst the top things to experience in Iceland.
On the readers' thoughts about Reykjavik, they explained, "The nightlife is legendary and the numerous coffee houses and small museums are all situated within walking distance in the downtown area. For people who want to escape the hustle-and-bustle of city life, major natural attractions (like the Golden Circle route and the volcanic Reykjanes Peninsula) are as close as a 45 minute bus or car ride from the city centre. The city has also invested in cultural attractions, like the new Harpa concert and conference centre, and a number of new hotels and hostels. Location helps too: it's just 3 hour flight from London."
For a chance to find out more about flights to Iceland from London Heathrow, as well as flights from Manchester and Glasgow, visit www.icelandair.co.uk.
Photo: Oli Kristinn – http://flickr.com/olafur